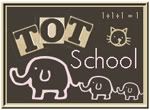 Boo is my brainy 22 months old tot who I can't seem to kiss and hug enough
I have wanted to post my Tot school learning for some time- have been super busy, but took the time tonight to quickly jot down what my Boo has been working on this past week!
That is ONE busy week behind us!
Happy Teaching!